Nail Serum Pen Pack | 8 Twist Pens (50% OFF)
Regular price

$102.00

Sale price

$51.00
Made to grow & strengthen your nails

Stops cuticle picking & hangnails
Provides relief after acrylic nails

Stops bad nail-biting habits
Repairs damage from fake nails
Helps enhancements last longer
Non-greasy & absorbs in seconds
Treats ridges & split nails
See visible results in the first week
Hand-made in Australia
Scents include:
Are you tired of trying Nail Products that don't work? Introducing this revolutionary Nail Growth & Strengthening Serum in our 3ml twist pens! Formulated with over 15+ years nail experience and THOUSANDS of trials, this pure organic serum will transform your nails in a matter of weeks with consistent use.
Our Nail Serums are designed to strengthen and nourish your natural nails, encourage natural growth and help to stop biting, cuticle damage and repairs skin. It has also been formulated to help nail enhancements last longer 💅🏻
This exclusive set brings together our 8 most popular pen fragrances all in one collection. From the tropical allure of Pineapple & Mint, Strawberry & Watermelon to the invigorating freshness of Raspberry Vanilla, SOTB and more.
It's one of things you HAVE to try to see the amazing results for yourself!
Real organic ingredients

We formulate our serums by hand using only the purest organic oils, such as: Fractionated Coconut Oil, Certified Organic Argan Oil, Certified Organic Jojoba Oil, Certified Organic Almond Oil, Fragrance and Mica.
Easy to use & apply

Using this twist pen is a breeze, and your nails will thank you for the extra pampering. Here's a simple guide on how to make the most of this incredible product:

First, ensure your nails are clean and dry. Twist the bottom of the pen to dispense a small amount of the serum onto the brush applicator. Gently brush the serum onto your nails, focusing on the nail beds and cuticles. The soft bristles of the brush allow for precise application, ensuring every nail gets the nourishment it deserves. Take a moment to massage the serum into your nails and surrounding skin, allowing it to absorb.

The organic ingredients will work their magic, promoting healthier, more resilient nails. For optimal results, use the twist pen daily as part of your nail care routine, especially when you're on the move. It's compact, portable, and perfect for quick touch-ups anytime, anywhere. Say goodbye to dry, brittle nails and hello to well-nourished, beautiful fingertips with the convenience of a Nail Serum twist pen!
Shipping & Returns

What will the cost of shipping be?
This 8-pen pack includes free Australia & worldwide shipping! All orders over $50 receive complimentary shipping!

Need your order faster (est 1-3 days)? We have express shipping options available for you for a small fee for Australian residents. Your order will be sent using Australia Post and can be tracked.


When will my order be sent?
All orders are sent within 24 hours, most same day if ordered before 2:00pm! Please note that there may be slight delays in shipping at times of high volume orders. Please also consider public holidays when selecting your shipping at checkout. If you have any concerns or questions regarding your order please don't hesitate to contact us.


Can I return the product?
We hope that you will be delighted with your products. However, we do accept returns and are happy to offer you a store credit or exchange.

Here's how to proceed with returns:

1. Contact us within 14 days of receiving the product and

2. Return the item unused and in original, unopened and undamaged condition.
"I received my nail serum about 3 weeks ago & use it twice a day religiously. I have always been a biter , my nails are so much healthier , longer & stronger in that short time. I love the smell of the serum also."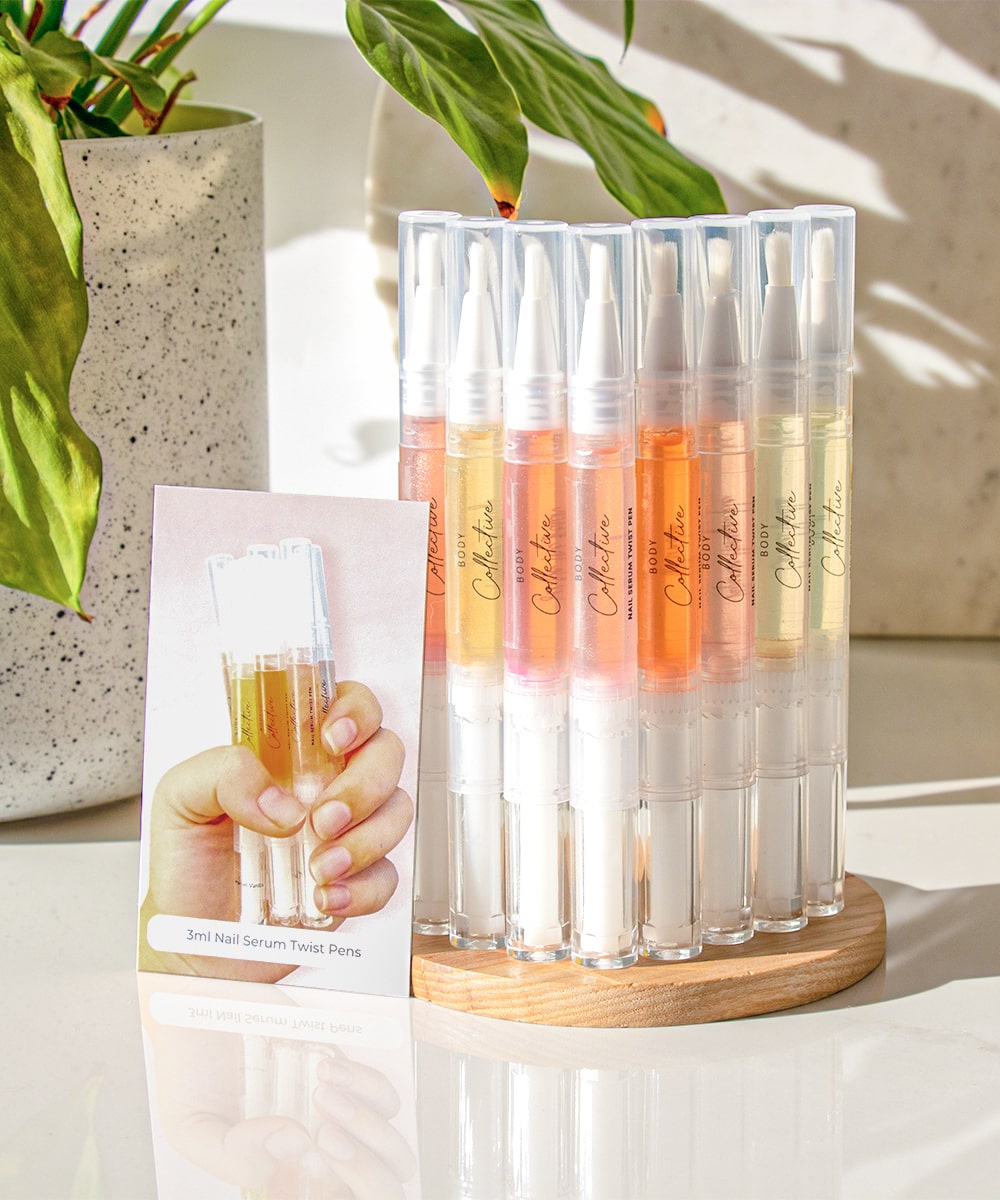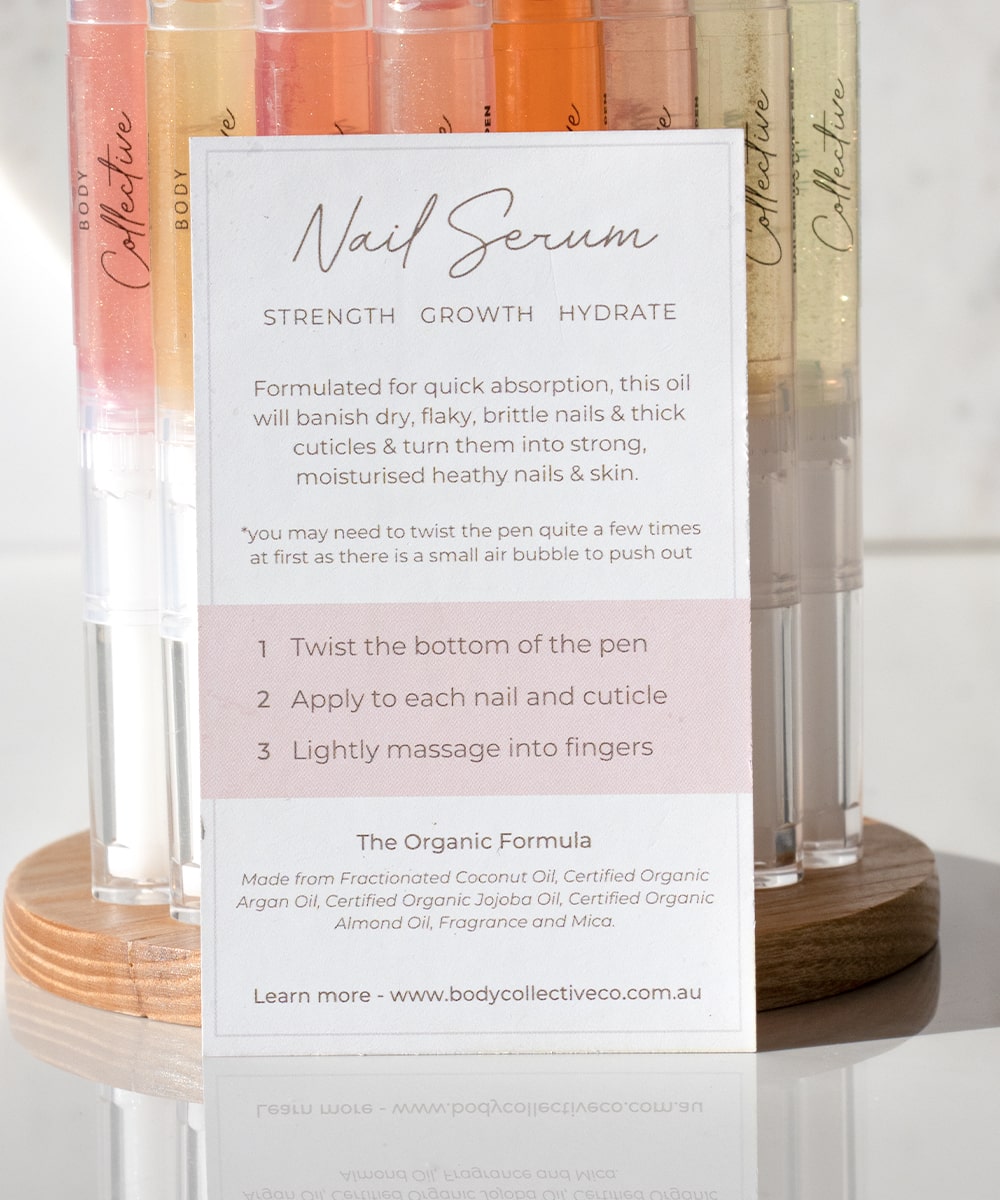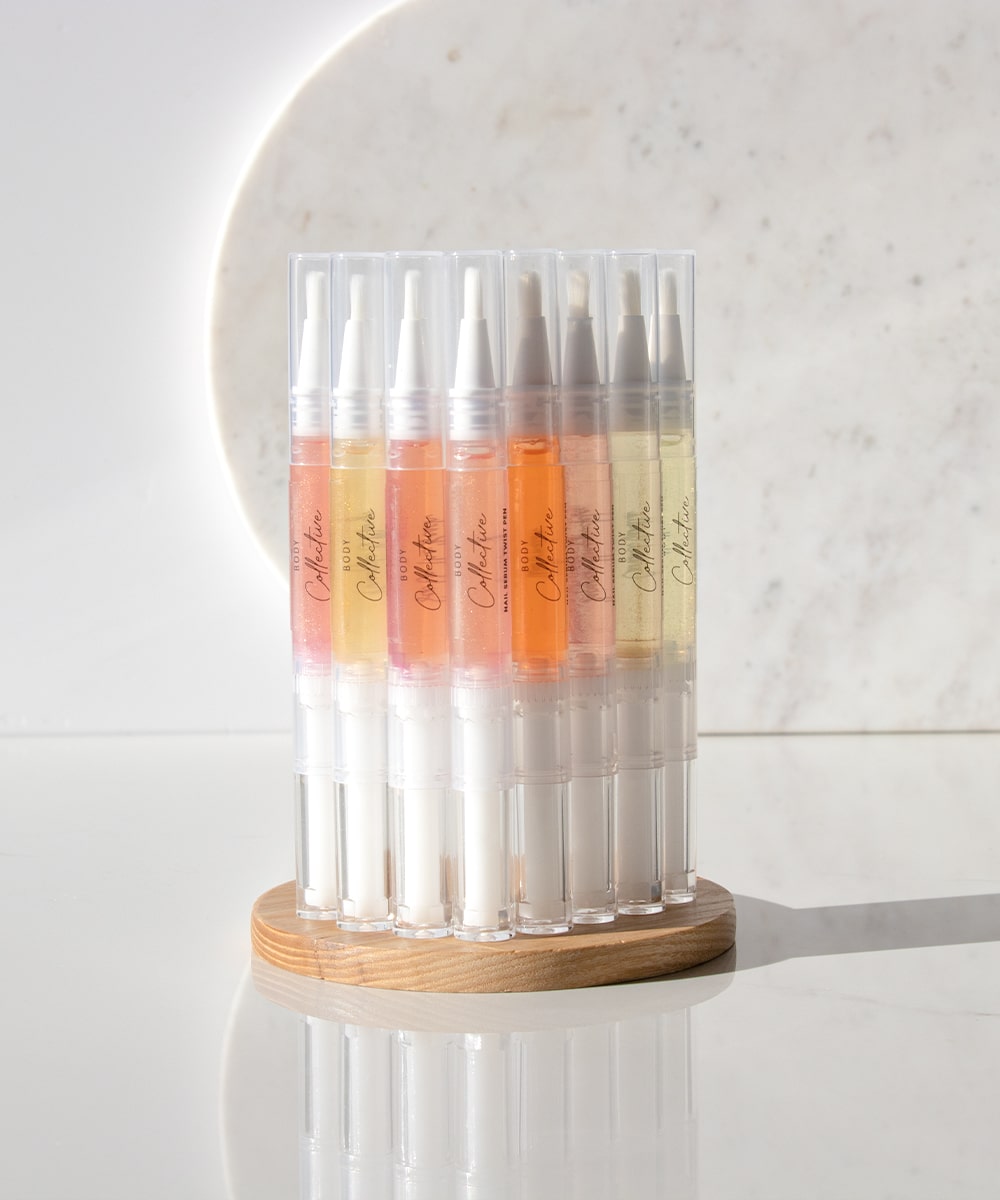 Meet Tayla, founder & creator of this Nail Serum
Thousands of nail transformations
4 Organic ingredients that hydrate, repair and grow your nails.
Natural growth with Jojoba Oil

Rich in vitamins E and B, Jojoba Oil will repair damaged collagen inside nail beds, improving strength and promoting healthy nail growth.

Deep hydration with Argan Oil

Argan oil moisturises, repairs, protects and nourishes nails thanks to its high nutrient density. Due to it's regenerative, restoring and strengthening capabilities, it is a great ingredient for those with brittle and dry nails.

Natural repair with Almond Oil

Rich in essential antioxidants, Omega 6 and 9 fatty acids and vitamins E, A, B1, B2, and B6, Almond oil naturally repairs the nails with rich nutrients that protect them from peeling, cracking, drying out or breaking.

Skin & cuticle care with Coconut Oil

Coconut oil is great for treating brittle and cracked nails as well as damaged cuticles because of its deep nourishing and moisturising properties.
Here what one of our beautiful customers has to say about their Nail Serum pens!
Love love smell is amazing
Great product, works as advertised
Fantastic product, really works, love all the scents
Very happy with purchase. Definitely making a difference to my nail health
Have questions? We have answers!
How long do my pens last?

Your 3ml Twist pen will usually last you up to 30 days with daily use, so for 8 pens you have up to 8 months of use! We recommend you apply your serum twice a day for best results!
When can I see results?

As soon as you apply this serum to your nails, you will instantly notice the incredible fragrance. After about 20 seconds the serum absorbs into your nail, which is where you will see a visible change in the hydration of your cuticles and nails. Here's what you can expect over the coming weeks.

Days 1-7 | During the first few days of using your serum, you'll start to notice a consistent improvement in skin hydration around your cuticles and finger tips.

Days 7-14 | After 7 days, this is where you'll see a noticeable improvement in nail growth. Just make sure you don't pick or bite at your nails during this time!

Days 14-21 | Your nails are starting to repair and strengthen any damage under your nail bed and around your finger tips, and improving your overall nail health.

Days 21+ | From here and onwards, you'll continually see improvements in your nails, from strengthening, nail growth and cuticle health.
What kinds of nails does this serum work on?

Our Nail Serum is designed to strengthen and grow your natural nails, as well as help enhancements last 1-2 weeks longer. Simply apply the serum to your cuticles and directly on your nails and watch them grow over the coming weeks!

If you have enhancements on, apply the serum directly to your cuticle and around your nail. This will help your enhancements last longer and keep your cuticles hydrated.
Are we an Australian business?

Yes! We are a small family owned beauty business, based out of the Gold Coast in QLD. All of our ingredients and serums are sourced locally and made fresh by hand.

We also use Australia post, which also means you will get your products within 2-5 days or faster if you choose express post at checkout!